Eliminate the Need to Send Daily Vaulting forms to your Vaulting Company
At most vaulting companies, TSM media is considered "Open Media" (because each tape is tracked individually and expires at a different time) and not "Container Media" (which all comes back from the vault at once). Because of this difference, you need to tell your vaulting company which tapes to pick up and which ones to bring back.
Without AutoVAULT, you must send daily forms to accomplish this task or write scripts to automate the process, which are often difficult to maintain. If you forget or send the wrong tape movement information, your important data backups may not be in the right place at the right time.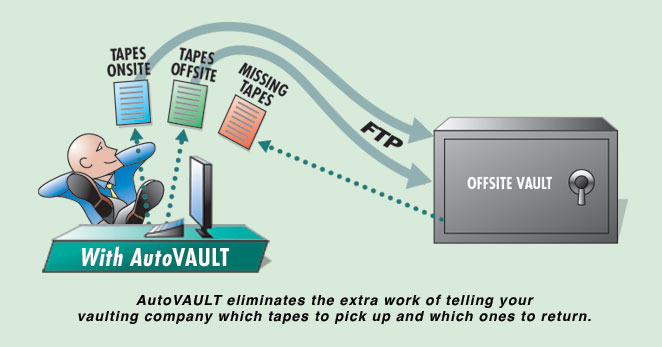 AutoVAULT automatically reports which tapes to move*...
---
If your vaulting company supports electronic reporting, AutoVAULT now allows you to automatically FTP your tape movement information in a method that they can easily process ... without daily intervention on your part! AutoVAULT creates interface files each time it runs: "TapeOn" for media moving onsite and "TapeOff" for media moving offsite. Now, with AutoVAULT, instead of manually inputting this information into a web interface or sending daily reports, you can fully automate the process and eliminate human error!
Make your job easier and your data safer... automate your important tape movements with AutoVAULT!
* You will need to set-up this feature with your vaulting company.
If you use Iron Mountain® or Vital Records, Inc., everything has been fully tested and you will just need to fill in a few fields in AutoVAULT and contact your vaulting company's support to get the process going. See page 44 of the AutoVAULT manual or our training video for details.

If you are using a different vaulting company that supports electronic reporting, you will need to contact your vaulting company and AutoVAULT support for some assistance in the initial setup.

Please contact support@coderelief.com with any questions.
---
Home | Features | Testimonials | Free Trial | Purchase | Support | News | Contact | FAQ | Government
Phone: (1) 888-402-6937, info@coderelief.com
All Servicemarks and Trademarks are the property of their respective owners.
Copyright © 1999 - 2022 Code Relief LLC

Learn more about Tivoli Storage Manager through our newsletters: