Information for Government Agencies
---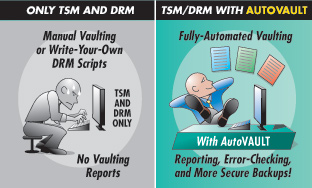 AutoVAULT takes the human error out of preparing data for recovery.
Without AutoVAULT, Tivoli Storage Manager (TSM) tape vaulting functions are typically completed in one of two ways:
MANUAL VAULTING can take 1.5 hours of work per day per TSM server and lead to human error. It is easy to get interrupted and forget to run a step or not check every tape you want to send off-site.

SIMPLE SCRIPTS can waste 30 minutes of work a day and miss tapes. These scripts are written by employees or VARs to automate the TSM/DRM vaulting commands. They are relatively quick to write, but they don't verify that your tapes are successfully checked out of the library or provide any flexibility or error-checking in vaulting. When a disaster occurs, what might it cost your organization if tapes are missing and you have to restore back several days or weeks?
Benefits for Government
---
For a cost of under $4 a day*, eliminate human error and remove up to 1.5 hours a day of manual work per TSM backup server per day with AutoVAULT. That can be up to $35,000 in labor costs per TSM backup server per year!

The cost of losing days or weeks of data when a disaster occurs, because the right tapes have not been correctly taken offsite, is unthinkable. The government has made a huge investment in backing-up their data with IBM's Tivoli Storage Manager backup product and the last piece of the puzzle is ensuring the data is safely in a vault. This should not be left to error-prone manual methods or scripts without full error-checking. Automate these functions with AutoVAULT!
Success Stories
---
Federal Retirement Thrift Investment Board (FRTIB)
CHALLENGE: Highly-qualified technicians were bogged down with the daily, error-prone, manual work of tape vaulting, leaving less time for mission-critical project work. Home-grown or VAR automation scripts were ruled out, because of the potential for human error and future maintenance headaches.
SOLUTION: FRTIB realized that improper vaulting leads to failed disaster recovery tests, resulting in significant costs in equipment, man-hours, and the image of the department. They integrated AutoVAULT to automate their vaulting and realized a reduction of 1.5 hours a day in workload per server (a 19% reduction in staffing costs).
Reading Health System
CHALLENGE: Reading Health System wanted to remove any manual tasks that could introduce human error into their backups. They were using simple scripts written by their IBM VAR to automate DRM vaulting commands. Operators were taking time daily to verify each and every tape that needed to be taken offsite, since their simple script couldn't report any tape that failed to be ejected from their tape library. Their technicians were taking time using an Iron Mountain web interface to verify the vaulting company received tapes from their site and identify tapes to return from the vault each day. If the technicians or the operators missed tapes, the media would not be moved correctly ... leaving the possibility of media or data loss.
SOLUTION: Reading Health System chose AutoVAULT to automate their tape vaulting and their communication with Iron Mountain and saw a reduction in staff time of over 45 minutes a day per TSM server (a 9% reduction in staffing costs). They also benefitted from a faster and more reliable restoration of data in disaster tests.
AutoVAULT Features
---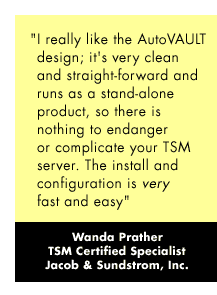 1. AutoVAULT verifies each tape checkout individually and captures all checkout failures. You will glance at a report and know if you have the correct data going offsite without having to manually check each tape. This saves time and increases accuracy.
2. AutoVAULT provides an audit log of all tape movements onsite and offsite. The log is in CSV format for use in Excel ... and makes auditors very happy.

3. AutoVAULT can communicate directly with Iron Mountain or other vaulting companies. AutoVAULT will automatically send your information in a method that Iron Mountain and others can easily process ... without daily intervention on your part!

4. AutoVAULT excludes media brought onsite for an emergency so you can continue normal vaulting operations while the media you need is left in your library.

You can also prioritize data for first restoration in the event of a disaster, vault to multiple vault locations, vault primary pools and archive data, and more. These features are not included in TSM or DRM. TSM Admins set up AutoVAULT in under an hour and then it runs by itself giving you the feedback you need in simple reports. Let AutoVAULT automate your vaulting functions with tried-and-true technology that will make your job easier and your data safer!

Watch a short (< 5min) overview video and/or download a free trial and learn what AutoVAULT can do for you! Any questions?
Helpful Details (any questions email or call 610-926-2556)
---
Documentation

:
• Code Relief Capabilities Statement
• AutoVAULT TSM Engineer Briefing

Contracting Information:
• GSA IT/70 Schedule: GS-35F-0041Y
• Terms and Conditions on GSA Advantage
• Easily order through GSA Advantage
• Duns: 10-668-8646
• NAICS: 511210, Cage Code: 67UD6

Corporate History:
• Established in 1999
• 14 years of excellent performance in the public and private sectors
• Made in the USA

Corporate Qualifications:
• SBA Certified Small Business
• A+ Certified with the Better Business Bureau
• Software tested and approved by IBM for use with Tivoli Storage Manager

Compatibility:
• Works with Tivoli Storage Manager (TSM) Servers running on Windows or Unix
• AutoVAULT application runs on Windows
• Works with or without IBM's Disaster Recovery Manager (DRM)
Please email or call 610-926-2556 with any questions.
*AutoVAULT cost for year 1 is under $9 per day, cost for all following years is under $1.30 per day. Average cost over 3 years is under $4 per day. Labor cost estimated at $100 per hour for 1.5 hours a day, 5 days a week for a year, minus the product cost.
---
Home | Features | Testimonials | Free Trial | Purchase | Support | News | Contact | FAQ | Government
Phone: (1) 888-402-6937, info@coderelief.com
All Servicemarks and Trademarks are the property of their respective owners.
Copyright © 1999 - 2022 Code Relief LLC

Learn more about Tivoli Storage Manager through our newsletters: