AutoVAULT Overview
Installing and implementing AutoVAULT takes less than 30 minutes. But the rapid implementation time is just the beginning. Learn how AutoVAULT can make your job easier and your data safer! (See an AutoVAULT Overview Video)
Daily Operations

Save hours of expensive technician time every week using AutoVAULT's automated media rotation system.
Problem:
With TSM alone, or TSM with DRM, you must write scripts to automate vaulting, or run the vaulting commands manually every day. You also must write media vaulting reports to know what media to move. Writing these scripts and reports is a time-consuming and error-prone process. Staff turnover and TSM upgrades make ongoing support challenging.
Solution:
With AutoVAULT you configure what TSM media you want to manage and AutoVAULT will automatically check out the media and notify your operators of what media to move. AutoVAULT can be initiated manually by your operators, but it is typically executed automatically by TSM. It manages and vaults all removable media containing TSM database backups, primary pools, copy pools, client backup sets, TDP and archive data automatically! It even automatically locates and re-vaults misplaced media.
AutoVAULT creates daily media rotation reports for vaulting that can be automatically printed, viewed through a web browser, and/or emailed.
AutoVAULT's automated vaulting and daily reports do NOT require you to write scripts or create reports on your own. AutoVAULT is updated for each new release of TSM, so you will never have to worry about code changes or that the author of your scripts might leave your company.
AutoVAULT can automate IBM's Disaster Recovery Manager (DRM)
---
If you have a TSM server running DRM, you can now add AutoVAULT to DRM to fully automate your vaulting functions and provide all the vaulting reports you need. AutoVAULT still supports the traditional vaulting method using CHECKOUT LIBV and UPDATE VOLUME commands, but now also supports all DRM functions including MOVE DRMEDIA, MOVE MEDIA, and PREPARE. You can choose which method works best for each of your TSM server instances.
Solutions for Overcrowded Tape Libraries
---
Are TDP or Archive media filling your tape library? Does it take too long to copy your TDP Data? Look into AutoVAULT's solutions for Overcrowded Tape Libraries.
Improve your media control
---
Multi-Vault Support: AutoVAULT allows you to specify different vault locations for all media, including TSM database backups (both regular and snapshot), backup sets, copy pools, and primary pools. By sorting your reports by vault location, separate vaulting lists will be created for each vault. This allows you to easily maintain a set of media in both an onsite and an offsite vault. See some possibilities of where this can be useful.
FTP daily media reports to your vaulting company* that supports electronic reporting without daily intervention on your part! AutoVAULT will FTP the list of media sent offsite so the vaulting company can verify receipt. AutoVAULT will also automatically FTP media requested for return. Remove the human error of filling out daily web forms or writing your own scripts. More information.
* Works with Iron Mountain® and Vital Records, Inc.
Automatic interface with external media management software: When combined with external media management software, for example QwikScan, you can track your media by barcode I.D. and manage random slot vaulting. AutoVAULT seamlessly updates QwikScan with media changes initiated by AutoVAULT. More information.
Manage Multiple TSM servers from 1 AutoVAULT install
---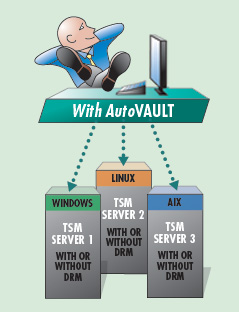 Run AutoVAULT on one server several times or several servers in series

AutoVAULT accepts parameter input to control which TSM server to execute. You can run one TSM server instance, all defined instances, or a combination of instances in any order. There is also a time delay option allowing a pause between executions. This is very useful when when you are regularly exceeding your library I/O slots and need to run AutoVAULT multiple times. For example,

tell AutoVAULT to: (1.) Run TSM servers 1, 2, and 3, (2.) Pause for 30 minutes for the operator to empty the I/O slots, (3.) Re-run TSM Servers 1 and 3.

Manage all your TSM servers from one AutoVAULT install

One central AutoVAULT instance can manage multiple TSM servers running on different platforms. This allows you to simplify your TSM operations and quickly replicate configurations to a new TSM server instance. All AutoVAULT options are defined separately for each TSM server instance, allowing maximum flexibility. Note: An AutoVAULT license is required for each TSM server instance.
Disaster Recovery
---
Guarantee the fast restoration of your irreplaceable business data. AutoVAULT creates an easy-to-use disaster recovery plan for you with all the necessary steps and scripts to quickly and completely restore a Windows, AIX, HP-UX, Solaris, or Linux TSM server environment.
Return off-site volumes to recover from an on-site media failure with AutoVAULT's smart method which excludes the volume from vaulting during your recovery.
Why do you need a Tape Vaulting & Disaster Recovery add-on to TSM?
---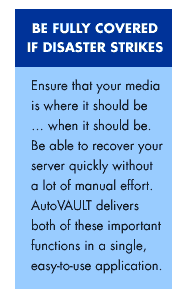 If you are using TSM to backup your enterprise data without an enhancement for Disaster Recovery, your important business data is at risk.
Potential Problems any Data Center Can Face


A removable volume (such as a tape cartridge) becomes unusable.

Hard disk crash on the TSM server affecting the disk backup pools

The TSM database becomes corrupted, or is lost due to hardware failure

Operator error or malicious behavior

Physical destruction of the data center - Full-Blown Disaster
AutoVAULT is the automated solution!
Planning and Recovery Choices

Planning a method to keep your data safe and easy to recover in the event of a disaster (big or small) is very important. The following chart describes your choices: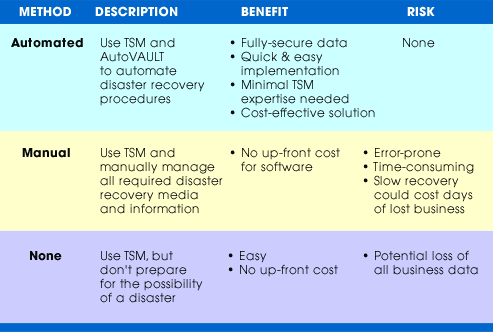 ---
Home | Features | Testimonials | Free Trial | Purchase | Support | News | Contact | FAQ | Government
Phone: (1) 888-402-6937, info@coderelief.com
All Servicemarks and Trademarks are the property of their respective owners.
Copyright © 1999 - 2022 Code Relief LLC

Learn more about Tivoli Storage Manager through our newsletters: