AutoVAULT makes managing your Storage Manager database backups and data volumes easy. We do, however, recognize the need to offer world-class technical support so that our customers get the most out of AutoVAULT.
Do you have a question about AutoVAULT?

Review our short, helpful Training Videos

Search our FAQ's

Look up specifics in our short Manual

If you need additional help please contact us
(see specifics below)
Need more help?

AutoVAULT customers with support (included free for the first year), and trial download users may contact technical support. We are committed to getting back to you within 24 hours on business days.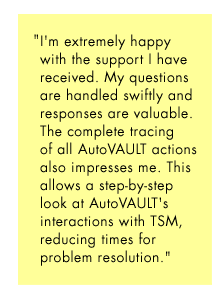 Please provide the following information.
Your license key number OR indicate it is a trial

The operating system and version you are running on

The AutoVAULT version that you are using

The TSM server and client version you are using

A detailed description of the problem
Contact Details: